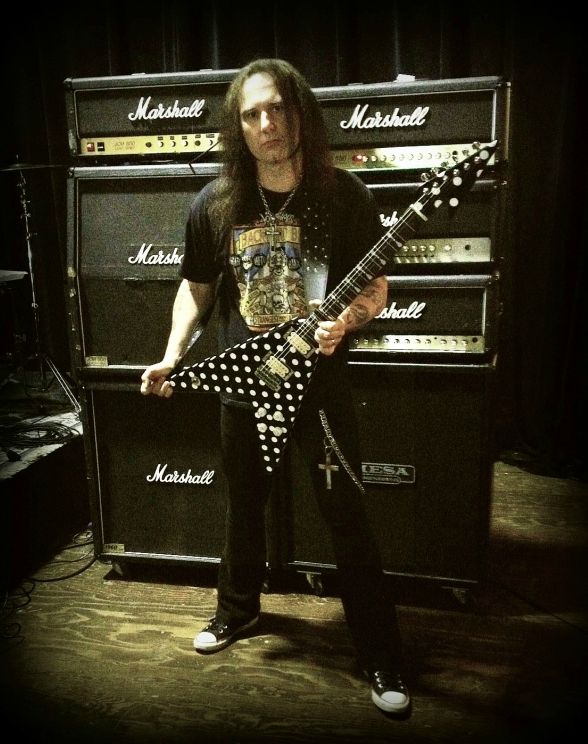 METAL MIKE CHLASCIAK - FOUNDER & CEO
First - The Official Brag Bio
My focused, no frills metal guitar playing took me from 350,000 people at Rock In Rio to Ozzfest to Giants Stadium to three times at New York City's Madison Square Garden. I am a recording and touring artist, writer, blogger and an expert heavy metal guitar coach. I have recorded and toured the world several times over with Heavy Metal's elite and have appeared on albums totaling well over a million sold. I am a long standing guitarist to Judas Priest's Rob Halford.
I have taught hundreds of thousands of people internationally via my popular 'Metal For Life' Guitar World Magazine column, DVDs, books, music camps and workshops. I have also recorded with Bruce Dickinson of Iron Maiden, Axl Rose of Guns N' Roses, Sebastian Bach and performed with Testament, Rudolf Schenker of Scorpions, Geoff Tate of Queensryche and Saturday Night Live's Jim Breuer. I tour internationally as a solo artist, with other metal gods, and have played in over 20+ countries while sharing tours with bands such as Motley Crue, Iron Maiden, Guns N' Roses and Ozzy Osbourne.
In 2018, I was inducted into The Hall of Heavy Metal History along Bill Ward of Black Sabbath, Lzzy Hale of Halestorm, Billy Sheehan of Mr. Big / David Lee Roth and others.
And, Now - My Mission & Why I Really Do This
I founded Metal Heroes Academy in order to Educate, Motivate and Inspire the current generation of up-coming young metal-heads as well as experienced players.
As a young player, I found that many behind the scenes doors in the music business were tightly closed. Not many professional musicians seemed to truly explain endorsements, offer proven tips or even seem interested in developing talents, never mind careers of other young players. The idea of I Found A Way, So Why Should I Help You seemed to be the rule.
I certainly spent many days outside the clubs with my demo tapes hoping to pass it along to someone in a real band. What was I expecting? I'm not sure. Maybe a nod that I was doing something right, maybe to hear of someone looking for a guitarist. I was not sure what I was doing, but I wanted to do something. I can count on my right hand fingers how many ever replied.
But, through developing my talent armed by persistence, resilience and refusal to fail, I did eventually brake through the walls. And, the bands whose bus windows I used to peek into as a teenager eventually were warming up tours for my band few years later. It was a trial by fire way of learning how to navigate through the nooks and cranies of the often challenging music world. 
I understand exactly how it feels when you are doing something that is outside of the norm and it easy for me to relate to younger metalheads wanting to make a mark with their own playing. I can also understand why it's hard for adult players to keep the guitar in their hands when the daily life keeps them busy. I have been through this all.
And, ultimately I want to inspire others to achieve their very own goals whatever they might be. I refuse to accept that musicians "should" be financially broke and carry a beaten dog attitude. As a matter of fact, I feel that metal rockers are some of the smartest and most enterpreneurial people that I have ever met. 
I also know that parents are often looking for answers in regards to their young metal-head wanting "to do something" with their music. I might not always have the answers, but I definitely enjoy talking and sharing ideas and any advice that I might have.
I'm committed to providing world class programs through Metal Heroes and offer them at a fair price. I truly enjoy teaching in a easy to understand manner.
I am a proof that anyone can succeed if they are willing to believe in themselves.
Metal For Life.