We ship all orders immediately via United States Postal Service.  We use First Class & Media Mail For US Orders.
 Please Note: Books Only Ship To Customers Within The Continental US.
 You will receive an order as well as shipment confirmation e-mail. All prices are in US dollars.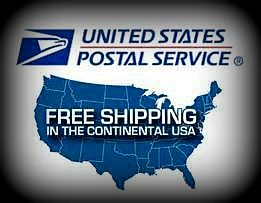 Below books have helped 100's of guitarists across the globe. Let them help you, too.
Chromaticity - Metal Mike
Written by Metal Mike, Chromaticity serves as a go-to manual for any serious guitarist looking to improve their speed, coordination, left and right hand synchronization and more. Some of the exercises were taken from classical guitar warm-up routines, while some were developed by Mike himself. All exercises use the Chromatic Scales as the starting point for variations. Book features standard notation, tablature, left hand fingerings, picking tips and performance notes. This book should be required material for any practicing Metal guitarist. Level: advanced beginner / intermediate / advanced.
$20.00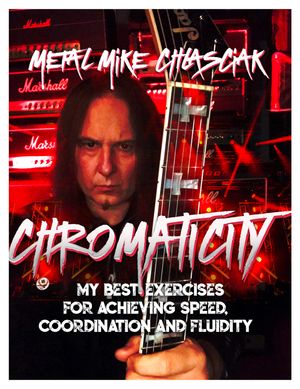 Ridiculous Riffs For The Terrifying Guitarist - Metal Mike
This is the first book Mike wrote for the metal guitarist who wants to take his/her playing to the next level. Topics covered include Terrifying Pentatonics, Speed and Scalar Sequences and so much more. All examples are written in regular notation and tablature. Theory application follows each example meaning you won't end up with a bunch of licks without knowing how to use them. This book has been a favorite of many guitarists for the last several years and it is guaranteed help you develop new ideas and outlook on playing lead guitar. Level: intermediate / advanced.
$23.00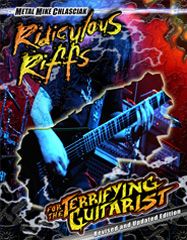 Monster Coordination: Guitar Boot Camp - Metal Mike
In this manual, Metal Mike shows you the best exercises he has come across for speed, fluidity and dexterity. Each example is clearly explained with corresponding diagam and/or tablature. This is a great book to get that will keep your hands in shape. Makes a great companion to the Ridiculous Riffs book. Level: beginner / advanced.
$22.00